Written by: Admin_SheEvo
I recently had the privilege of attending an event that inspired me profoundly. The "1000 Stories 100000 Trees" initiative felt like a beacon of hope and progress, illuminating the path toward a more empowered future for African women. There was an electric energy in the air as I stood amidst a diverse gathering of women from all walks of life.
For me, the event wasn't just about planting trees and sharing stories; it was about planting the seeds of change, one story and one tree at a time. Each story shared was like a seedling of inspiration that, when nurtured, could grow into something monumental. As I listened to the stories, I was reminded of the remarkable resilience of African women. These weren't just tales of adversity but narratives of triumph over challenges that once seemed impossible to overcome.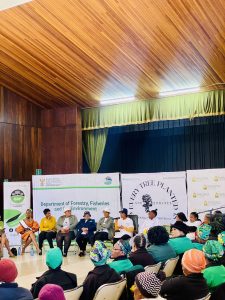 For me, this event was about taking action based on those stories. Planting trees, putting our hands in the dirt and caring for those trees became a symbol of how these stories could change people's lives. With each new seedling planted was a sign of growth and stability.
What struck me most about the event was how united everyone was. The event showed me that the best way to make change is to work together and build bridges between our different experiences. It was a clear example of the idea that when we stick together, we are stronger.
As the event came to an end, there was still a feeling of hope in the air. The stories told, and the trees planted were all part of a bigger story. They were signs of strength and change, reminding me that even small actions can have significant effects. In a world where the potential for change often feels overshadowed by the magnitude of social and economic challenges, the "1000 Stories, 100000 Trees" initiative was a source of hope. It showed that change is possible and that the collective action of many can transform communities and the environment.
As I left the event, I carried with me a renewed sense of purpose, a reminder that my voice matters and that every story, no matter how small, can plant the seed of change.