Written by: Christina Vestey
Today,  millions of women of all ages worldwide do not feel that their voice matters nor do their dreams and hopes for their futures. Their dreams feel too farfetched to be achievable. I wish I could speak to every single one of them and tell them, we need to hear their voice; they are worth their dreams and so much more.  It is such a waste of human potential, creating a brain drain on every society and economy. One of the things that I am often aware of is that many young, educated women enter careers because of the prestige and financial security they offer. To have had the good fortune of a solid education and then choose an artistic career would freak many parents out. Most kids forsake their dreams because of family and societal pressure. On the one hand, I can see why this feels like a very natural response from parents because building economic security is their focus. On the other hand, it can be extremely damaging. Many young women miss out on following their passions, turning them into financially successful and personally rewarding careers. Understandably, for many young women, it's hard to make such a leap of faith when they do not see themselves reflected in the career paths they dream of following. There is no reference for someone who has gone before them, particularly in more creative and artistic fields. That's why I wanted to have a conversation with Amal Fashanu because she has broken so many boundaries driven by an inner passion for bringing change and exploring new horizons.  
Amal Fashanu is a filmmaker, fashion designer, equality activist, tv presenter and a burgeoning singer-songwriter. At 32, she manages the foundation she set up in honour of her uncle Justin Fashanu; she continues to grow her fashion and handbag labels and is just about to host her own tv show in Ghana, aside from doing a Channel 4  documentary film. She moves at 100 miles an hour, fearless, gracious and at the same time open, honest and ready to have a good laugh. Amal makes things happen. Her natural curiosity, passion and creativity drive her infectious energy alongside a lot of hard work. To get to know Amal, one needs to dive into her diverse background and upbringing, as it has shaped the woman she is today. She is the daughter of a Spanish model and Nigerian UK footballer and tv presenter and the niece of the first Black million-pound paid footballer, Justin Fashanu, who was openly gay. Tragically he committed suicide when Amal was 11.
CV: Growing up, do you feel you could see yourself reflected? Did that influence your choices?
I sometimes felt, growing up in Spain, I didn't have a reference. I didn't have a Barbie doll that was Black, and I didn't have a role model that was mixed race on TV. So growing up, sometimes you thought to yourself, well, I'm going to have to sing and dance because that's what I can see. Cause I see Beyonce, and I see everyone else, and yet I don't see how my potential can go anywhere when I'm not seeing the representation in the public eye or on an advert. 
I watched my Dad presenting Gladiators on TV. I wanted to follow in his footsteps.  I've always wanted to be a singer, but my parents were always like, 'No, no, you study.' So it's a bit African in that sense. You know, Spanish people have that. They would say, 'How are you going to be a singer? Who's a singer? Why would you be a singer? It's no good singing Amal.' And I'm like, 'What do you mean, I love it.' Their response would be, 'We don't care. We don't care. First study. And then you decide.' You know what I mean? So that's exactly what I did. I studied Media and Communications at Brunnel University in the UK.
CV: Although your parents pushed you to study, you could pursue a career path that you were interested in and that offered a lot of flexibility. Great skills to have particularly today and if you pursue singing. 
Amal: Media is so broad. You could be doing radio, broadcasting, journalism. You can write columns; you could write a blog; you could do a bit of influencing. You could do one thing, or you could do a mix; you could be a freelancer. It's very versatile. For me, studying communications and media studies is one of the most intelligent things I've probably done.
Young girls will come up to me and be like, how do I get into doing documentaries? What's the process? Like who do I call? The thing is, is that right now, the competition is fierce. Many girls have this idea, we don't need to go to uni really because we've got social media and all of these things that we can do on our phone to become photographers and videographers. I mean, that's just silly because university provides you the time where you are actively engaging with people who have the same likes as you; you're getting to know a different way of life. You're getting to meet these people, live with them, study things that you might not think are important, but you realise they are what give you the professional edge when you finish. You're like, Oh, hold on. I know how to do filming with a TRX or an FX, and I can quickly edit. 
That adds to whatever job you're going to. You work on a film and all of a sudden, you know, I can be the presenter, the producer, the editor, I do the sound effects. I do the voiceover. I'm also good with imagery cause I'm a designer. It means I work effectively, as well. I can work with more people, and I expand my network. It just gives you the perfect layers to be successful. It's like saying you speak French, English and Spanish. You just keep on adding. 
With experience and knowledge, you can just do this yourself. So, for example, if you have the right amount of funds behind you, you can create your crew of people, which is what I'm starting to do now. You make your production company; you film your own material and then sell it to the channels. 
CMV: You made your first documentary about your uncle Justin Fashanu and homophobia in football. You were only 21. He died when you were 11. Had you wanted to tell his story for a long time?
Amal: Well, my mum was Justin's soulmate. They were best friends. Before he committed suicide, he spent most of his week with us. He was very close to us. I don't know how to explain it cause it was all over the press and my mom was so close to him. So we uprooted and left to live in Madrid.
I went to a British school in Madrid. And from that point onwards, I think we just started a fresh new life. It wasn't that we forgot about him. It's just I was never worried about who my Dad was or who my uncle was. I just started year seven in Madrid and did up to year 13. Happy days. I didn't know about my surname, no attachment to football, no one cared. My mom didn't mention it. No one mentioned anything about Justin that he was gay. Nothing. I moved to the UK when I was 18 to go to university, and that's when it all started. It was like, okay, your Dad, you know, was a presenter for 13 years on Gladiators. You know, he was a Black pioneer in football that paved the way alongside Justin. Justin was the first million-pound Black player in England. Then it came that Justin was openly gay. And then, all of a sudden, when I was in my mid-first year, I got a call from a lecturer at Brighton University. He said we're doing a little clip about Justin because I want to talk to my students about homophobia in football and the lack of representation in the game. 
He came round to Brunnel. I'll never forget. We were in this little room. My mum flew over from Madrid, and he did a short interview. He just asked us about Justin and about who he was, et cetera, et cetera. He told me about a charity group called the Justin Campaign. This man who had been beaten up in Brighton for being gay set it up. I would go down to Brighton when I had free time at uni, and I would just volunteer with them. We were a group of 20 of us. 
On one of the evenings, I was playing football on a pitch, and there were some cameramen. They were like, can we just quickly interview you? I did the interview, and that interview went viral. I think it was the next day I had over 72 production companies calling me on my phone. There I was in my little room at university trying to speak to my mom on MSN messenger. I was messaging her; I don't know what's happening. All these people are trying to contact me. So she said, you know, have some meetings and see what you feel. Just go along with it if you want to. I did and that's how I produced the first documentary. That was that.
CMV: It sounds more like it has been nonstop ever since. The subject matter of all of your documentaries always brings to light topics that have not been given a lot of attention in the media.
Amal: Yes. That same summer, I got called for a quick turnaround documentary for BBC Three about gun crime in America. It was the shootings of Aurora. James Holmes walked into the cinema whilst they were watching the Batman premiere, and he just randomly shot everyone. So within 24 hours, I was there. Can you imagine I was 22 years old? I had only done one documentary, but I'm not a documentary maker, essentially. I haven't even bloody finished university, and I am doing another documentary, with all of these people crying around me. I was just trying to deal with it. The story had happened a day before. I didn't know the production company. I didn't know anyone. We just started filming all this tragedy, which was insane. 
My third documentary was about finding a home for my brother, which was a mental health documentary for BBC three. That was partly filmed in Ghana and partially filmed in the UK. It was looking at the situation of a child that had mental health challenges. When they reach a certain age, what are you meant to do? How does the family cope with it, and how can you effectively make this child's life better? Cause that's all you can do because it's not going to go away. You just have to maintain it.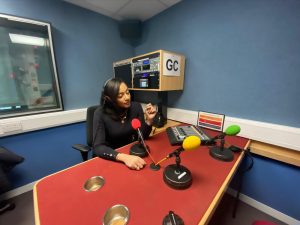 CMV: It's interesting because you filmed it in 2014, and it's only in the last few years that mental health is a much more openly accepted topic. There is still a lot of stigma around it. What was your experience in Ghana and the UK?
Amal: Well, it was quite awful, to be honest. I was filming kids that had minor things, like ADHD, and they were on the street. For some people, when they have kids, they feel like, you know, one of these kids has to be a prodigy. Do you know what I mean? A fantastic footballer, or he's going to be a doctor or a lawyer. And if you're not, or if you cause a bit of trouble at school, then a family may decide that this kid is too much of an investment and they're not going to get anything out of the investment. So why would they continue to invest? We were filming kids at 4.30 in the morning who were called street boys. They just help each other out. There are a group of like 50 of them, and they help each other out. An organisation called SAP provides space, once a day, where these kids can wash and get food. These kids know that if everything else goes wrong, at least once a day, they can be washed, have their food and sometimes get some clothes. 
In Ghana, one has a feeling they discard mental health. It's a thing that they think shouldn't be a thing to have. In a way, I feel like they just brush it under the carpet. In Ghana, mental health issues are a problem, but you don't see it as much. In the UK, we have access to this doctor and that psychologist. We can talk about it. We are now more capable of picking up a phone and calling someone, telling them what our problems are, and there are actual professionals on the other end of the line to help. Whereas in Africa, it's almost like, who do you talk to? Half of your family are going to say like, just get over it. Ghana can be one of those places that is very welcoming and fun. Everyone's happy, but at the same time, if you're not accepted, you're really not accepted. It's like being gay, you know, it's similar. 
 My Fourth documentary was also for BBC Three, which was on footballers and sexual assault. I interviewed quite a number of women who footballers had raped. Many women who, you know, they either want to date a footballer, or they're paid escorts, and they've had trouble with footballers. And then how that kind of impacts the footballer and his family, whether the story was true or it wasn't. And how that got portrayed in the media. 
CMV: It's interesting how your first documentary unleashed the activist in you, directing the path you have chosen to take.
Amal: Yeah. It's been a long journey, you know, I feel old now I'm 32. I think, wow. I made my first documentary in 2012, and I was at uni sleeping in halls. When I filmed my first doc, which was an award-winning documentary, I didn't even realise what was going on. I was just telling my story. Being honest and open, chatting about my family and discovering things that I hadn't been told, and I didn't know myself. All of a sudden, it was the most-watched documentary of the year. I get invited to Downing Street. David Cameron ( UK Prime minister at the time) and his wife invited me for dinner. I didn't know what to say. I was 21, turning 22. 
I was at the summit at Downing Street and David Cameron's turns to me and says, 'Could you give us an active visual proposal to eliminate homophobia in football?' I'll never forget. I thought you better say something right now. I was like, 'Well, I think, we should all wear a logo of equality for the first two minutes of the game as a symbol, and then take it off.' That started the rainbow laces and my brand Blackheart label in 2012. We made these jumpers, which were 'make peace, not war'; 'appreciate don't discriminate'. Suddenly I was talking to Phillip Green, the owner of Top Shop, and putting Blackheart label as a brand into Top Shop. Vogue recently featured those jumpers in Black Lives Matter. It's just been a nonstop journey.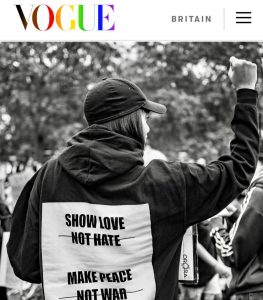 CV: You are very intentional about what you do. You are working on numerous things you're passionate about, but you seem to find the thread that brings them together, and it just works for you.
Amal: I think I've had to because I'm an only child from mum and dad. I am the eldest of six because my parents had other children separately. I think I've had a very kind of complex life in a way. I've gone through so many different things, and I've met so many different people, and I've travelled. When I keep on looking into myself and search for who I am and what I'm doing and who I want to be and what I want to do in the future, I think one of the reasons I've been able to tie all these things together is because they share the common interest, which is giving back. I'm very keen on helping other people because that makes me happy. When you make someone happy, it's just like the best feeling in the world. If I can help other people, it makes sense. So, for example, Black Heart label donates 35% to charity. I set up the Justin Fashanu Foundation nine months ago now, and that's going incredibly well. I have funded that myself from Black Heart Label and Amal Fashanu Handbags. Both of my brands essentially support the foundation and another six foundations, including WaterAid and UNICEF. Because this foundation has to do with football, it's received a lot of attention. The premier league and the PFA are sponsoring, and many governing bodies of football are behind the charity. So hopefully, that's going to be big enough for me to create a football academy in Ghana and more.
CV: With all that you do, you are often in the public eye. How do you stay grounded? 
 Amal: I have a very normal mum. I think her normality has always annoyed me in a way, but the amount of normalcy keeps me relatively sane. Whenever I feel a bit like I'm going to too many events and thinking I'm a bit too special, I just go back to my mom's village to be with my grandma, my mum and my aunt. I chill with them a bit, come back to this fancy glitz and glam and every night events. There is a lot of pretentiousness. You've got to be skinny. Oh, you're too Black, or you're too thin. You're too white. You're too fat; you're not Black enough to be Black. Do you know what I mean? I live with that constantly. You've got social media to add to that and they say crazy things. 
 CV: How do you handle it? There is enough pressure without having the glitz and the glamour around you; people watching you and continually making comments about you. 
Amal: I just believe it's all fake, so I don't believe in it. I'm not in it. You can only be in it, and it can only affect you when you believe these things. Who on earth cares? It's just laughable. The moment that you let it get to you, it's finished. They have won. I won't let them do that. I'm tired of it. You know what? I don't care. I am, who I am. I am beautiful, and I am great and that's all. From then onwards, you just work. I try to be the best person possible and give back. I just believe in karma and that what you give is what you get. You just have to live your life, and most importantly, just love and let yourself be loved.
CV: What does self- evolution mean to you?
 Evolution is what I call leveling up every day, always. You just have to try and do something every day that betters yourself. Education is key because knowledge is power. Once you've got that power, you can push yourself forward.