Written by: Admin_SheEvo
I want to tell people to continue dreaming. Close your eyes. Even if you feel it's not possible, it becomes possible.
My dad gave us a conviction. He told us that you could do whatever a boy can do; You can do it. He never held us back. In India, having five daughters was a lot of pressure. Our dad was very conscious that education was essential for all of us. I grew up with a lot of discipline and confidence because of the love our parents brought to the family. They were not very conservative where daughters were concerned.
I was the tomboy of the family. I took an interest in table tennis. I would blackmail the caretaker of our local club into playing with me because nobody wanted to play with a 10-year-old. I started getting better with my game and told my dad I wanted to show him. My dad was very encouraging. I played with the supervisor, who was a good player. He said to my father, 'There is a tournament coming up. Why don't we put your daughter's name in the sub-junior category for under 13s?'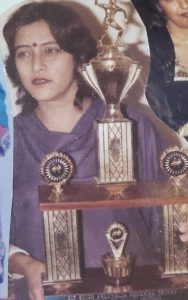 And that's where my history and my game started. I was selected to represent the district in the state championships. Growing up, I had that kind of dedication and wanted to do well. So I rose up from that. I was the only person in the history of Punjab to become the sub-junior, junior and state champion at the age of 13. I was in the top 10 in India in Table Tennis, and my dream was to represent my country as the Captain in commonwealth and world Championships.
But I never neglected my studies. I was in the top 100 in the whole of India. I knew my dad couldn't afford to send me to fancy colleges. I wanted to go out of the small town we were living in at the time. So, I told him I would like to make a deal. I'm telling you this because those negotiation skills helped me become who I am today.
He said, 'If you stay with us at home, it will cost 200 rupees a month. I can't pay more than this.' One of my friends was going to another city where I wanted to study. I said, 'Why don't I go and check? I promise you I will only go if it costs less than 200. And we had a deal; if it was less than 200 rupees, I got to go where I wanted to go.'
I got to the College and requested a meeting with the Principal. As a 15-year-old, it took guts to go outside the Principal's door and knock. I went up to her when my turn came. She said, 'What do you want to talk to me about? I said, 'This is my mark sheet, and these are my sports credentials. I would like to know if you can give me a scholarship because my father doesn't have the money to send me here. She looked at them and said, 'I'll give you a hundred per cent scholarship for your studies. And I'll give you a 50% scholarship for your hostel fees.' At that time, the hostel that was providing boarding & lodging was 150 rupees a month. I got it at 75 rupees. That's what I had to pay, and I got to keep 75/- as my pocket money! So, I studied there for a couple of years.
Initially, I wanted to go for Medicine, but my heart was never in Medicine. In those days, careers for girls were limited to becoming doctors, engineers, or teachers. Five days before my pre-medical exam, I made the decision. I did not want to go for Medicine. At the time, I was reading two books by Ayn Rand. One was The Fountainhead, and the other was Atlas Shrugged. It changed my view. In the book, one of the characters says, 'Close your eyes and imagine yourself where you want to be and visualize yourself in that position.' At the time, I was only 17 years old, and when I closed my eyes, I didn't see myself in a white coat. I saw myself behind a big desk as a corporate. So, after much convincing, my family agreed to my decision not to pursue Medicine, and I enrolled in Bachelor of Arts.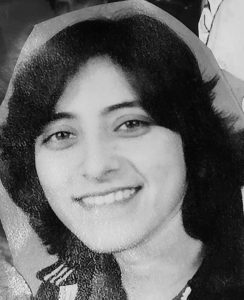 However, I found Arts very easy and felt I had more time on my hands, so I enrolled in Computer programming and systems design diploma course for a year. I topped my class and was given on-job training with Pfizer, HCL India and two other top companies in the last three months of my course.
In the meantime, I didn't realize my mother, returning from Nigeria, was passing through Kenya, where she was introduced to my future husband as a prospective son-in-law. In India, at that time, most marriages were arranged by parents. I was a very modern girl for my time; I was outgoing, travelled a lot, etcetera. I never wanted to have an arranged marriage. My mother came back in June, and my wedding was in August. I said, 'Mom, I really don't want to do it.' She said, 'Please go ahead, you will be happy. I loved and respected my mother a lot and reluctantly agreed. The date was set for 25th August 1985, and the invitations were sent out.
However, I got my MBA selection letter in the first week of August and only had a week to accept the offer. I wanted to do my MBA and asked my parents to cancel the wedding. My parents understood my dilemma and asked me to talk to my 'unseen' fiancé and explain to him what I wanted to do and then make a decision to call off my wedding. (My husband and I had only seen each other's pictures) I called my prospective husband and told him about my intent to study further. Surprisingly, he was very calm and understanding and told me that I could study as much as I wanted to after our marriage and that he would never constrict my growth as a person. That sealed it for me, and I decided to take a chance on my 'arranged' marriage!
I'm talking of 1985 here, and that too in India wasn't the done thing that you would have boyfriends and go out for dates etc. It was pretty restricted. But my parents asked me to spend time with him once he arrived in India, ten days before our wedding, and get to know him. I was given the right to cancel the wedding if, for some reason, we both didn't gel, and that gave me a lot of confidence to make my choice.
During one of our meetings before our wedding, I asked him if I could help him run his business., He looked bewildered and told me that he didn't have his own business and that he was in employment and said 'I'm sorry if you've been given the wrong impression because I don't have any money – my bank account is nil. We lost a lot of money after his father's death. I'm earning this much, and our home is our own. We have a roof over our heads. Mom is working as an administrator in a school. This is what we have. This is our world. If you come, you have to come and work. Yes. We can make a life together. But right now, there's no money in the house.' He was honest, and I fell in love with him instantly. He could have easily made a fool out of me. I had confidence in my abilities and decided to go ahead with the bond of marriage with an ethical, straight forward and simple man. I wasn't under any illusion or delusion and looked forward to starting a new life in a new country with my husband on my side.
The night before we travelled to Kenya, my husband came into my room, saw the big trophies that I had won in Table Tennis, and said, 'It would be nice for you to take them. I said, 'They're too heavy, and we only have one suitcase each as luggage allowance.' My table tennis bat was on the shelf, and he picked it up and said, 'Take it with you.' I said,' I'm not going to play anymore. Where am I going to play?' 'You know, just take it.' It was the last thing packed in the suitcase.
I am telling you this because there is a story to it. When I arrived in Nairobi, our first stop was at my sister-in-law's house. My brother-in-law came into the room to check on me and ask me if I needed anything. My suitcase was open, and he saw the table tennis bat, and we talked. He also played table tennis and, unbeknown to me, entered my name into the Kenya Open Table Tennis Tournament 2 weeks later. I won the championship and was the Kenyan Open champion for the next five years, from 1987-1992.
So, I played table tennis passionately! But, like any player, you dream of representing your country in the Commonwealth Games and the World Championships and becoming a captain. Like in the corporate world, the dream is to become the CEO. I set my intentions, and my efforts were such that I got the opportunity to play in The All-Africa games in 1987 and 1992 as the Captain of Kenya. I was ranked number five in Africa. Then in 1989, I represented Kenya in the Commonwealth Games and was ranked number 14 in the Commonwealth. And then I went to the world championships. We didn't get any real ranking, but I was the team's Captain. Basically, I had realized my dream and achieved all that I desired. I left the game when I was at the pinnacle of my career to focus on my family and career. I guess I had to fulfil my other dreams.
In 1987, I had joined a logistics company as their accountant, and the rest is history. I loved everything about my work and put my heart and soul into the company. I grew up with the company and became the head of finance in 1994, Director of the Company in 2007 and then in 2015, I became the CEO, which was a farfetched dream come true! That day, I remembered the vision I had at the age on 17, when I had decided to forego a career in Medicine for a corporate life! So finally, in 2019, I stepped down and resigned from my CEO's position to pursue other interests as a Logistics Consultant and to connect with myself after having worked for 32 years for the same company.
I have always been inclined towards IT and wanted to get a Software developed that would solve Truckers' pain points. During COVID times, with the help of software developers, I was instrumental in developing a software solution called TrackRight, the first App (at least in Africa if not in the world) to calculate every completed trucking trip's carbon footprint. The trucking and logistics industry is the biggest culprit for carbon emissions, and our App has given visibility to Logistics stakeholders of their footprint. Now we are trying to identify projects which generate Carbon credits and with whom we can partner to help the stakeholders offset their emissions. I want to leave this world with peace of mind that I have given back something small of what the world has so generously given to me. I want to create awareness about sustainability in businesses. I'm working on business models that can best reduce the supply chains, with a mix and match of rail and road and give solutions so that it's cost-effective and at the same time not heavy on the planet and the environment.
I've been a great dreamer. I close my eyes and visualize where I want to be, and somehow with my ethos and maybe the right intention and focus, God takes me there. I would bring it down to education. I think women and all of us have a right to education. I feel some women have it in them, but they're too scared of their peers. There's peer pressure. There's family pressure. There's societal pressure. But we've got to let go of those ropes that tie us, free ourselves, and fulfil our ambition and dreams because we only live once. What happens mostly is that women are scared to take chances. It's the fear of the unknown, but we need to find the strength to counter that fear and move in the right direction. What will take you further is your education and to stand on your own two feet. Empower yourself with continuous learning, widening your horizon, and taking on any challenge head-on! Women are much stronger than they think and get stronger in adversity, finding solutions and inner strength when things go wrong. They become the solution.
I believe women have to realise what a powerhouse we are, and the sooner we do, the faster our liberation will be as human beings!